At Glow we pride ourselves on being "spa-thorities" on all things cosmetic. We have the expertise (or as we like to call it "glow-how") when it comes to looking your best- let us show you the trendiest tricks and let you in on all our best beauty secrets.
Flip through the SCAD Fashion Catalog below
We are honored to be a part of this great project!
Learn our art, share our passion.. See the difference Glow can make as our artists reveal their tips, secrets, and techniques. In-store product demonstrations are available on a walk-in basis any day. What you take away is always what you learn-our pro know-how. Complimentary. Based on artist availability.
Just one look
A personalized product demonstration focusing on one key feature of your face.
Eyes: A Glow artist demonstrates the tools, techniques, and products needed to create the classic neutral eye, a smoky eye or the ultimate fashion-forward trend eye.
Face shaping: A Glow artist demonstrates how contouring and highlighting can create a dimensional and well-defined look by building on your existing makeup.
Lips: A product demonstration in which the classic neutral lip or a more dramatic lip is created. Defining techniques and how to use colour and texture creatively will also be explored.
Advancing your skills: A product demonstration introducing you to some of the product techniques that can add to, and enhance, your current look.
Focus of features: With a shade palette customized to your skin tone, this demonstration builds on your existing makeup to show you how to use product to enhance features.
Go for Glamour: In this demonstration, glamour takes center stage as a Glow artist builds on your existing makeup to show the classic and up to the minute product techniques of today's more dazzling looks.
False lash application: A demonstration to custom fit your new Glow lashes includes style consultation/selection, fitting, trimming, and positioning of the lashes to naturally enhance or add drama.
—
Jane Iredale
Beyond Matte Liquid Foundation $50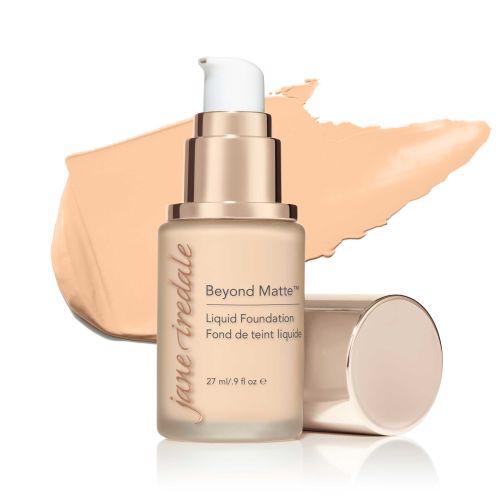 A clean, weightless, multitasking 3-in-1 foundation with buildable, stay-put coverage and a natural-looking semi-matte finish. Formulated with skin-nourishing, plant-based ingredients. 100% vegan and always cruelty-free.
Pure Pressed Powder $44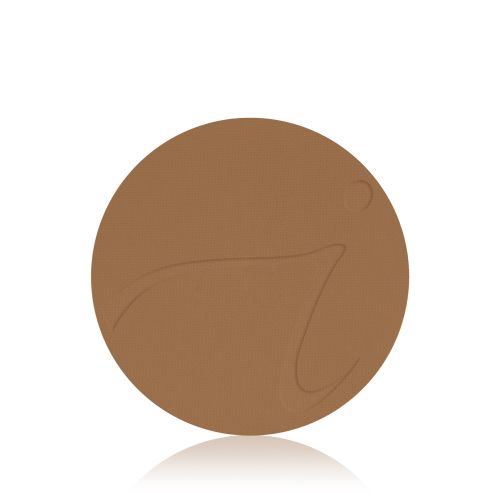 Glide this weightless sheer matte foundation on for a look that's just like your own skin, only better. 100% vegan and always cruelty-free.
Glow Time BB Cream $50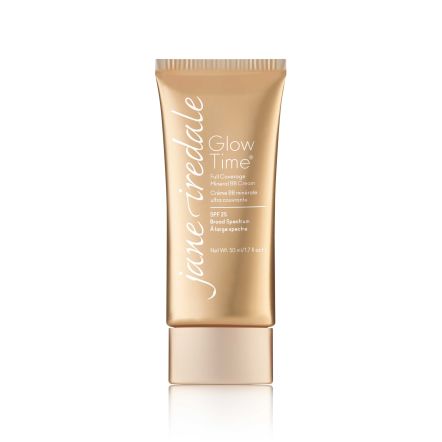 Glow Time covers blemishes, minimizes the appearance of pores, disguises wrinkles and smooths and brightens skin. 100% vegan and always cruelty-free
Liquid Mineral Foundations $55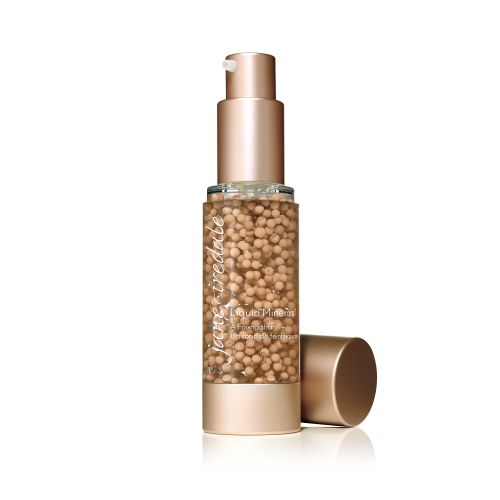 Hydrate your skin with this light-reflecting formula for sheer to medium coverage. 100% vegan and always cruelty-free.
Circle Delete Concealer $32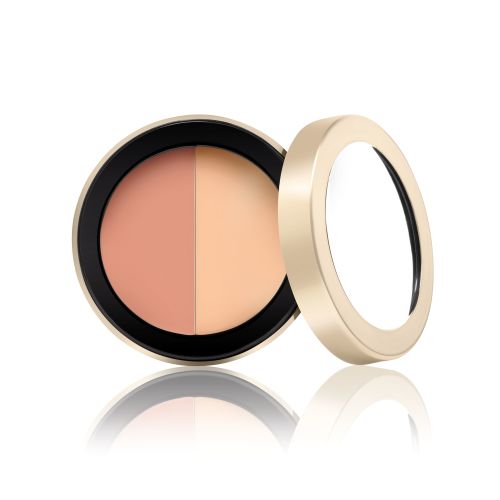 An eye conditioner and concealer containing moringa butter and avocado oil, both high in vitamins A, C, D and E. Contains green tea extract, a potent antioxidant.
Bronzer $44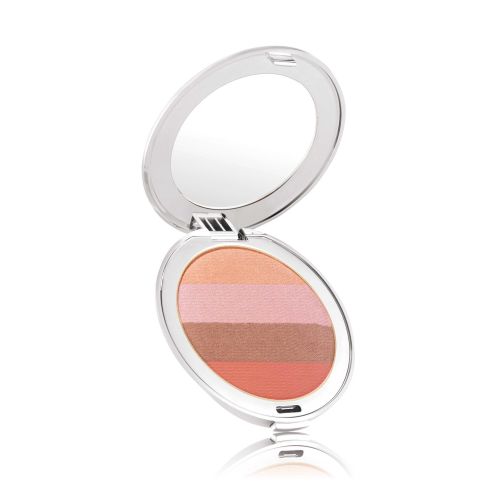 Peaches and Cream, Sunbeam, Rose Dawn, Moon Glow
Enclosed in our elegant silver Refillable Compact, four complementary shades can be swept across lips, eyes and cheeks to contour and highlight for a luxurious look.
So-Bronze Powder $39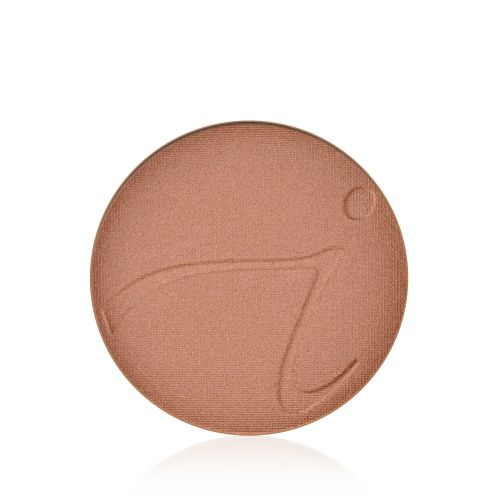 This light-diffusing, long-lasting powder helps you bronze, contour and highlight with ease.
Great Shape Contour Kit $49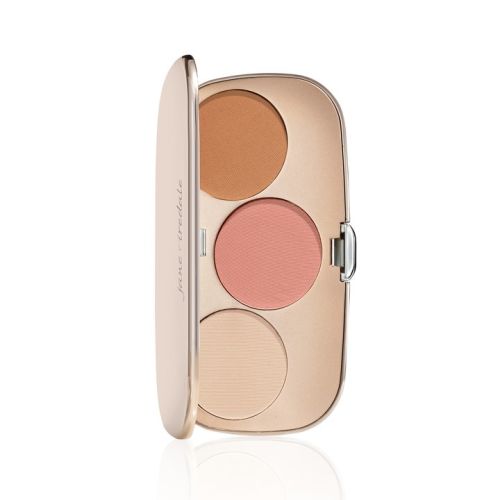 A trio of matte shades for sculpting, contouring and highlighting.
Triple Luxe Lipstick $35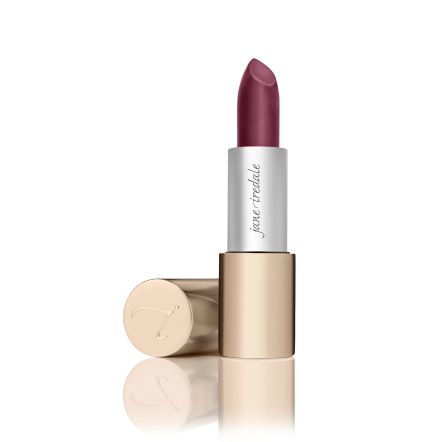 Triple Luxe Long Lasting Naturally Moist Lipstick™ offers richly-pigmented color in a breakthrough "Triple" formula that's long-lasting, natural and moisturizing.
Illuminare
Moisturizing Mineral Foundation
"Dewy" Sunscreen Mineral Makeup with a Broad Spectrum SPF 20.Get your glow back with this moisturizing formula. It provides a light to medium coverage to even skin tone and texture for a soft luminous finish. Helps to lock in moisture and hydrate the skin. 100% oil-free. $27
Concealing  Mineral Foundation
"Semi-Matte" Sunscreen Mineral Makeup with a Broad Spectrum SPF 20.  Want the coverage without the makeup look? This oil-free, semi-matte foundation serves a dual purpose as a full-coverage foundation and as a concealer. Excellent for concealing redness, hyperpigmentation, acne, and dark circles under the delicate eye area.. 100% oil-free $27
Mattifying Mineral Foundation
"Matte" Sunscreen Mineral Makeup with a Broad Spectrum SPF 20
Can't find a foundation that lasts? Well this oil-absorbing matte finish foundation is your match. It will not rub off or sweat off and is highly water resistant. Provides medium coverage to even skin tone and conceal blemishes. No need for additional powder or blotting! 100% oil-free $27
Laser Brow
This unique, universally flattering cool-toned pencil is pro makeup artist's secret weapon. Perfect to downplay sparse areas and create a natural, all over shadow of definition. Laser Brow has a fine tip that makes precise brow shaping fast and easy. The low wax, high pigmented formula provides a natural finish with long wear. Comes with it's own custom sharpener. Perfect for ALL! $20
Get long, voluminous lashes with the original "tube" mascara. Tiny, water-resistant tubes won't run, smudge, clump or flake – even if you cry or rub your eyes! $26.00
Dr. Kiss
Dr. KISS a unique, satin finish balm that applies smoothly with uber staying power, packing an antioxidant punch with vitamins A, C & E. Infused with Kukui Nut oil to lock in moisture and promote healing. Refreshing natural mint and a whisper of sweet flavor give your kiss a delicious feel & taste. Don't worry, it's fat free! You'll notice the balm itself has a pale, icy hue…but finishes to a subtle pink. Exciting color enhancing technology mixes with your natural body chemistry to give the perfect flush of color to your pout. It's so subtle, even men can use Dr. KISS. Available in Vanilla, Guava or Coconut flavors. Text me less…kiss me more!
Beauty Blender
Now you can look like a movie star without the pricey services of a major make up artist. Introducing Beauty Blender, the ultimate make up sponge applicator. Invented by top Hollywood make up artists Rea Ann Silva and Veronica Lorenz, Beauty Blender has been created to leave you with a professional finish and a flawless complexion. Silva and Lorenz know that the key to a perfect face is simple: a perfect blend. So forget your fingers or sharp-edged triangular sponges, these application methods waste make up and can leave visible streaks.
Beauty Blender's patent-pending elliptical shape makes application foolproof by allowing you to access hard-to-reach areas with stunning ease. Its suede texture is sensual to the touch and its unique curves fit the contours of your face, leaving your make up dazzling and undetectable. Beauty Blender is latex free, non-allergenic and odor free. And it's only $20!
How to:
Blend your way to a flawless face! Seeing make up is the first sign of an amateur application. Beauty blender was created without edges in order to eliminate visible lines and streaks. So go ahead, experiment fearlessly with your Beauty blender and discover the many ways its unique shape will set you free!
Bounce Beauty blender against your face when applying make up. Bouncing, called stippling in the make up world, blends make up without creating changes in the texture or tone of your skin. Use Beutyblender's pointed side for hard-to-reach spots like around the nose and mouth, and under the eyes. Use the round base for foundation and blush on the larger areas of your face such as your forehead, cheeks and chin.
If you apply make up with your fingers you'll find that Beauty blender will smooth and refine your make up to provide a clean finish.
Use Beautyblender damp when applying wet/dry make up. When Beautyblender is wet it is normal for it to expand to nearly twice its original size. Wash after use and place in the Beautyblender insert pedestal to dry. You can also put Beautyblender in the Beautyblender pouch and toss it in the dryer. Be sure to use an air-dry setting; Beautyblender should not come in contact with extreme heat of any kind. If you have problem skin Beauty blender works to cover blemishes. Use the pointed end and the stipple and twist technique to work make up into depressed areas of the face. The stippling and twisting action feathers out the make up edges, leaving a perfect finish.
Blinc Mascara & Eyeliner
Blinc, founded in 1999, offers a high-performance line of eye enhancement cosmetics/accessories that redefine the genre. It all began with blinc's original Kiss Me Mascara – invented to form tiny water-resistant "tubes" around your lashes that don't run, smudge, clump, or flake – one of the best mascaras on the market as rated by top beauty magazines and Hollywood's hottest stars (such as Jessica Alba and Rachel McAdams).
Blinc's Kiss Me Liquid Eyeliner – a "beauty breakthrough" per Prevention Magazine – applies the same revolutionary tube technology to create an intense look and unparalleled hold, yet can easily be removed without harsh makeup removers. Blinc's Multifunctional Lash Primer/Conditioner amplifies your mascara's effects while nourishing and protecting your lashes. The technologically advanced Heated Lash Curler offers maximum curling results safely without pinching skin. The evolution of the blinc line continues to offer innovative solutions and exceptional performance.
Call today to schedule an appointment for a custom make-over! You will receive a customized full-face look in this one-on-one 45 minute session with one of our Glow expert artist. Learn new techniques and find your best look for day time, evening and special events! $50 suggested minimum purchase.